Our Eye Doctor Can Treat
Good vision is important. Unfortunately, however, some people will suffer from vision problems. Even if you were born with perfect vision, illnesses, dietary deficiencies, injuries, and various other conditions could impact your sight. It can be important to visit an optometrist if you believe something is impacting your vision. Glasses, traditional contacts, Ortho-K contacts, and other treatments might help. Stop by with us at The Eye Doctor Unlimited in College Park, GA.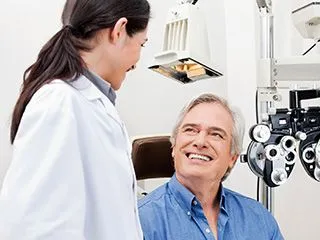 The Benefits of Eye Exams
Of course, eye exams are not a condition but instead an important service. That said, many of the conditions discussed below may be uncovered during an eye exam. Even if your vision and eyes seem to be in good shape, an eye exam may uncover issues that are going unnoticed.
It can be smart to schedule a regular eye exam with an eye doctor. This way, he or she can take a close look at your eye. With the conditions mentioned below, early treatment could be a major difference maker.
Eye Allergies
Pollen and other allergens can cause myriad problems. While simple eyedrops may help, they might also prove ineffective. Our eye doctor can help with eye allergies and help you to explore your options.
Sports Injuries and Other Injuries
Sports are often rough and tumble, an errant limb or fast-moving ball could damage your eyes. If you recently suffered a sports injury or something similar and it's affecting your eyes, it may be smart to see an eye doctor.
Myopia
Nearsightedness, or myopia, is a common condition that affects many of people. Myopia has become more common in recent years. Excessive time using digital devices, like smartphones and computers, may cause eye strain and contribute to myopia.
Whatever the cause, nearsightedness can reduce your quality of life. Fortunately, glasses and contacts can be used to help correct this condition.
Hyperopia
If you can see far away things but struggle to see stuff up close, you may be suffering from hyperopia. The right set of glasses or contacts could provide relief, making it easier to read and otherwise see things up close.
Dry Eye
Many different things can cause dry eyes, including infections, allergic reactions, and more serious underlying medical conditions. Contacts, including Ortho-K lenses, may cause dry eye. If you regularly suffer from dry eyes, it can be important to visit an optometrist to get everything checked out.
Cataract Diagnosis
Cataracts are cloudy formations on the eyeball that can reduce vision and cause other problems. Cataracts can continue to grow and can even cause blindness. Fortunately, it's now possible to remove them with surgery. An optometrist can diagnose cataracts and refer you to specialists who can treat them.
Glaucoma
Glaucoma refers to damage to the eye nerve. This may be the result of high pressure on the eyeball itself. Our optometrist can provide treatment for glaucoma and other issues.
Visit Us for More Information from Our Optometrist
We can help with other issues as well. Schedule an eye exam with us at The Eye Doctor Unlimited in College Park, GA. Call us at (404) 768-3500 for more information.